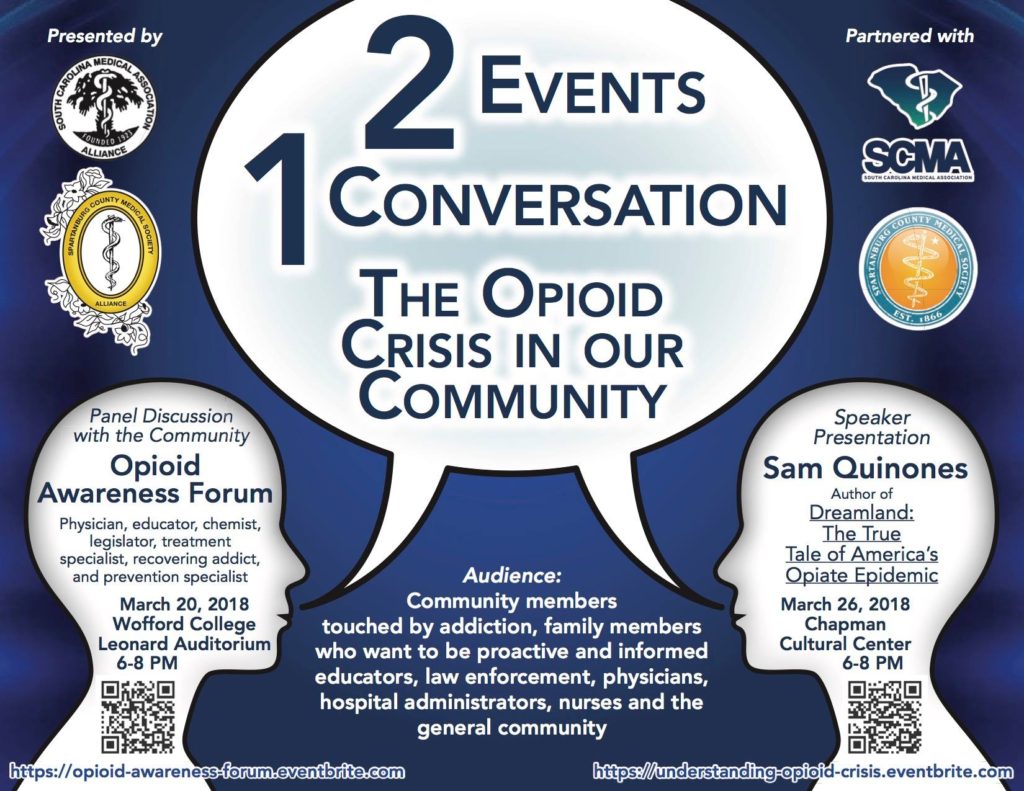 Opioid Awareness Forum
March 20 – 6:00 PM
Wofford College Main Building – Leonard Auditorium
429 North Church Street
Spartanburg, SC 29303
Click here for more information and to register
Join us on March 20th at this FREE community forum for parents, grandparents, aunts, uncles, neighbors, care givers, students, educators and the general public for education and awareness on the Opioid Epidemic in Spartanburg County.
Hosted by the Spartanburg County Medical Society Alliance, each panelist will speak for 10 minutes regarding their role and then take questions. Moderated by Fritz Butehorn, MD with a Closing prepared by Greg Colbath, MD, the panel will consist of:
Carol Reeves – Director and CEO of Greenville Family Partnership
Sue O'Brian – Executive Director of The Forrester Center for Behavioral Health
Rusty Clevenger – Spartanburg County Coroner
Dr. Russell W. Booker – Superintendent of Spartanburg County School District Seven
Representative Phyllis Henderson – (R) District 21 Greenville County and Co-chair of the Governor's Opioid Task Force
Lt. Melissa Hendricks – Sheriff's Dept Chemist
Rich Jones – Executive Director of Faces and Voices of Recovery (FAVOR) Greenville
Brian Thurston, MD – Director of Level 1 Trauma Center and Acute Care Surgical Service
In order to ensure this event is FREE for the public, we are in need of volunteers and financial support. If you are able to volunteer your time or would like to donate, please contact Jennifer Britanisky at jlbritanisky@bellsouth.net. Donations are also accepted via PayPal by clicking THIS LINK. Thank you for your support.
Understanding the Opioid Crisis
March 26 – 6:00 PM
Chapman Cultural Center
200 East Saint John Street
Spartanburg, SC 29306
Click here for more information and to register
featuring Sam Quinones, author of Dreamland: The True Tale of America's Opiate Epidemic
presented by South Carolina Medical Association Alliance and Spartanburg County Medical Society Alliance
in partnership with South Carolina Medical Association and Spartanburg County Medical Society
Join us for this free and open-to-the-public book signing, lecture, and Q & A about the drug issues in our nation with Sam Quinones, a Los Angeles-based freelance journalist, 10-year veteran reporter on immigration, gangs, drug trafficking, and the border, as well as, author of nonfiction, including Dreamland: The True Tale of America's Opiate Epidemic for which he traveled across the United States to research.
Dreamland won the National Book Critics Circle Award for General Nonfiction and was on Amazon's Best Books of the Year list for 2015. Informational sessions and lectures given by Sam Quinones have proven to be a catalyst for change in other locations. The same week that he will be speaking in Spartanburg he will be traveling to Washington, DC to speak at the Library of Congress.
Opioid Crisis in Our Community